> Material: Esclusive NATO Nylon Trilaminate 4-1-4 Rip-Stop

> Special Features:
- Special preformed knees ("pence")
Special tailoring technique that ensures the maximum mobility on the knee.

- Removable Neoprene Pads on knees
Integraded in the dry suit, it is possibile to dive with or without the protective pads.

- Diamond Underarm Gusset
Special tailoring technique that ensures the maximum mobility on the arm.

- Trilaminate NATO 4-1-4 Neck Protector with velcro strap.


> Extra-Protections: NATO Trilaminate 4-1-4 on neck, shoulders, chest , arms, forearms, crotch, butt and knees.

> Sealings: Polymeric (Aquasure®) with lifetime warranty (on the Aquasure® seals).

> Waterproof Zipper: Bronze front diagonal entry zipper (Plastic MasterSeal on requestl), protective extra-zipper and telescopic torso with crotch strap.

> Neck Seal: Neopren, Latex (on request) or Silicon (optional)
> Wrists Seal: Latex, Neopren (on request) or Silicone (optional)
> Footwear: H.D. Neoprene Socks in Supratex® with separated Speleo boots (included), or FlexBoot (integrated in the dry suit).

> Pockets: Made with NATO Trilaminate 4-1-4. Big Cargo style. Both pockets have the internal partition and 2 bungee strings. Right pocket has an additional zipped pocket on the flap with 2 bungee strings.

> Valves: Swiveling inflate valve and high-profile adjustable outlet valve.

> Adjustable elastic on the lumbar zone for fine adjustementof the waist circumference.


> Included Accessories:
Separated neoprene hood
Bag for dry suit
Quick connect LP hose
Adjustable internal suspenders
---
> Available optionals:
Rings system for Neck and/or Wrists (user replaceable seals and/or dry gloves)
Relief Dry Zipper
Pee Valve
MOLLE system


> Weight: 3,5 kg (M size, model with neoprene socks)

Strong points:
> Superb Resistance
> Excellent mobility
> Requires no assistance to be dressed
> Lightness
> Fast drying
Made in Italy, in DiveSystem
This product is NATO Coded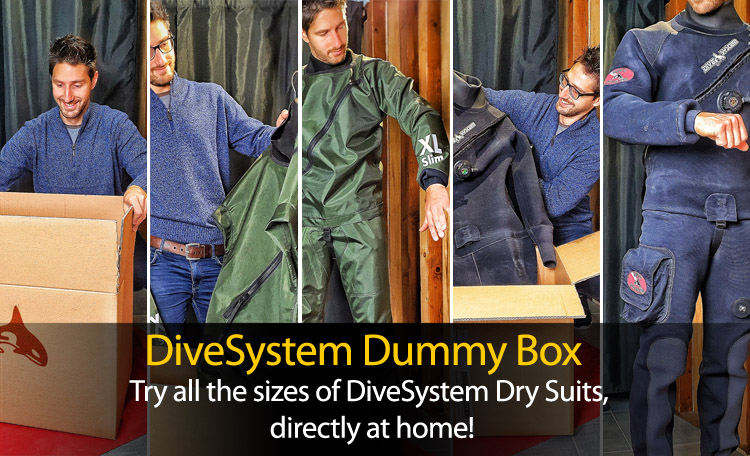 DiveSystem Trilaminate Dry Suit: Solo Shipboarding NATO edition:


Removable Neoprene Knee Pad (Kevlar version in the picture)


Preformed Knees and Diamond Underarm Gusset: Special tailoring techniques allow perfect mobility of Knees and Arms, even when using Heavy Duty equipment


MOLLE with soft safety lock system (optional): All DiveSystem suits can be equipped with the MOLLE system. MOLLE is an acronym for Modular Lightweight Load-carrying Equipment. It is used to define the current generation of loadbearing equipment and backpacks used by a number of NATO armed forces. The MOLLE system can be used along with the Utility Pocket, with the Argon tank Pocket, and with all the items compatible with the MOLLE standard.


DiveSystem Trilaminate Dry Suit: Solo Shipboarding NATO edition: